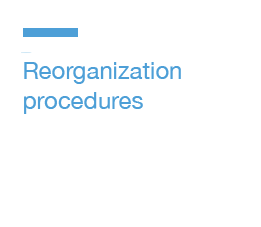 Our firm assists clients in court in the following situations:
cases of bankruptcy revocation
applications (timely or late) for admission to a tax payable status
judgments of opposition to the liability status and to allotment projects
credit revocation judgments
instances of bankruptcy
judgments opposing the approval of preventive and bankruptcy agreements
assistance in the evaluation and/or presentation of applications for preventive and bankruptcy agreements.
Our firm provides assistance to companies undergoing an economic and financial crisis by working with the entrepreneur to establish balance recovery measures and plan rehabilitation. The approach is mainly as follows:
Identifying the conditions and causes of a crisis
This means finding the causes that led to the crisis through analyses of current and trend market conditions and business potential and by determining the options available for recovery. The analysis continues with establishing the seriousness of the financial and capital hardship in order to find optimal solutions.
Setting up solution mechanisms
This consists in identifying the legal instruments – insolvency, extrajudicial, M&A, etc. – helpful or necessary to achieve economic and financial recovery. Our firm will examine the solutions and give the assisted company all the data regarding effects, benefits, costs and risks.
Assistance with the recovery project and negotiations
Our firm helps the company to implement a reorganization project as regards the completion of extraordinary operations envisaged therein or with carrying out insolvency solutions, with particular attention to negotiations with creditors – primarily banks – but also with suppliers, human resources, etc.