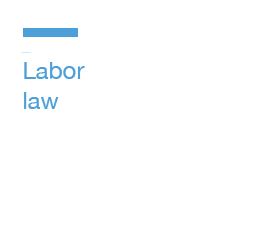 Our firm has developed considerable experience in assisting employers as well as employees, in all the main areas of labor law, and in particular:
assistance in trade union consultation procedures pursuant to ex-art. 47 Law n. 428/90 and art. 2 of Legislative Decree 18/2001 relating to the sale/transfer of business branches and mergers with automatic transfer of employment relationships
mobility procedures, incentive plans for voluntary resignation, CIGO, CIGS, solidarity contracts
individual and collective dismissals
disciplinary proceedings: disciplinary disputes and imposition of sanctions
customer assistance in the context of inspections by administrative bodies and for any subsequent litigation against assessments by INPS, INAIL, or the Ministry of Labor
labor law situations, also in protected areas, relating to consensual termination of an employment relationship and to an amicable settlement of labor disputes
consultancy relating to the areas referred to in the preceding points
litigation in active and passive cases relating to the areas referred to in the preceding points and in matters concerning accidents, workplace safety, appeals to INAIL, compensation for pecuniary and other damages, mobbing.