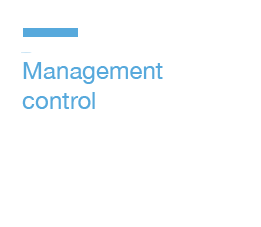 Over the years, our firm has acquired considerable expertise in the design and implementation of management control systems for industrial and commercial companies, medium-large sized service companies and for the Public Health Service.
The activity entails three significant phases:
check-up and objectives-setting activities
system design activities
start-up activities
Check-up and Defining Objectives
This consists in verifying the potential of the resident information system and in identifying its relative strengths and weaknesses, with respect to the system of top management's reporting objectives.
Our firm analyzes the processes, activities and structure costs and together with top management sets the system's objectives (control of profitability, efficiency, etc.)
Designing the System
Based on the results of the previous phase, our firm then plans and designs the control and reporting system, selecting the best among the various possible technical and cost solutions. The design is included in the technical report that our studio will discuss with the customer in one or more meetings dedicated to that purpose.
Start-up 
Planning is followed by implementation of an information system and organizational procedures. Our firm also provides training for personnel that management names as those persons responsible for the system.