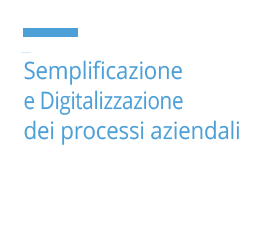 "Oggi, nessuno mette più in dubbio che le competenze e gli asset digitali della nostra società siano un fattore critico di sopravvivenza, ancor prima che di successo. Tanto da arrivare a concludere che le imprese possono essere ricondotte a tre categorie: quelle digitalizzate, quelle in via di digitalizzazione e quelle che sono destinate a chiudere".
Alessandro Perego, Direttore School of Management del Politecnico di Milano
Perché un servizio di semplificazione e digitalizzazione dei processi aziendali
Il sistema competitivo è cambiato, il mondo è cambiato anche a seguito della Pandemia. Non vale più «pesce grosso mangia pesce piccolo», ma «pesce veloce mangia pesce lento».
Tutti dovranno semplificare e digitalizzare i propri processi e il proprio modo di lavorare, con due finalità: ottenere saving e aumentare il proprio vantaggio competitivo, rendendo più facile fare business con i clienti, grazie a un collegamento delle Supply Chain.
Saranno vincenti le aziende dotate di processi snelli e di work flow digitali; aziende efficienti, con poca carta, aziende veloci con cui sarà facile lavorare, e in cui sarà facile lavorare.
Modalità del servizio di semplificazione e digitalizzazione dei processi aziendali
Lo Studio propone una modalità comprovata da anni di esperienza, a success fee, che trasforma per l'azienda il costo in investimento.
Le fasi della nostra proposta:
mappatura AS IS con gli operativi e raccolta dei documenti utilizzati, tramite apposito software Mirò;
identificazione degli sprechi e disegno TO BE, validato dagli operativi;
implementazione di nuovi strumenti e gestione del progetto con apposito APC;
formazione, affiancamento e go live.
A inizio progetto verranno redatti insieme all'azienda cliente gli User Acceptance Test di ogni fase, al superamento dei quali si passerà alla fase successiva.